Lasting Tribute page for
Harry Alfred

JONES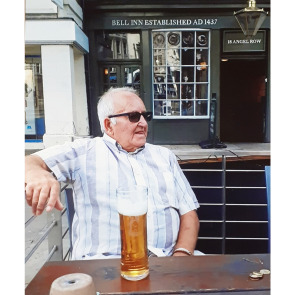 Add additional content
Memorable stories and life events
Published in: Nottingham Post, Nottingham area.
Published from: March 26, 2020.
Home town: Nottingham
Well Grandad where do I start, I remember you bringing me and Chris scratch cards every sunday morning, to taking us to watch football at the builders club with you. I will always remember the Polaroid camera you brought me one year for Christmas ( was and still is the best Christmas present I've ever had), being stung by a wasp in the garden at Danthorpe Vale. I worked with you and mum on the market before you sacked me for selling fabric at the wrong price lol ( you didnt really sack me). You and mum had a bond that was so strong which has taught me that family is an un-breakable bond. Lily absoluteley loved you and was only today speaking about how you used to look through the telescope and binoculars with her. I'm going to miss you so much but I will cherish all the lovely memories we had together forever. Love you always Nicole xxxx P.S I will let you know if Forest get promoted
Left by

Nicole

:

02/04/2020
A loving brother and a great friend will sadly be missed Derek Jane Daniel Ngarie
Left by

Derek jones

:

02/04/2020
Left by
Nicole, Tom and Lily xx
:
01/04/2020
Alf, Sunday morning football, Sunday dinner a pint great weekends to look back on. A pleasure talking to you about the old times in Sneinton. So sorry for your family, the strange times we live in makes makes it so awkward for everyone. Alf, a true character of Sneinton. A pleasure to have known you. Terence & Debra Mee.
Left by

Terence

:

01/04/2020
Left by
Chris x
:
01/04/2020
Sponsored by Ancestry ®
Search records for
Harry Alfred JONES