Announcing the passing of
Beatrice May

BUNDY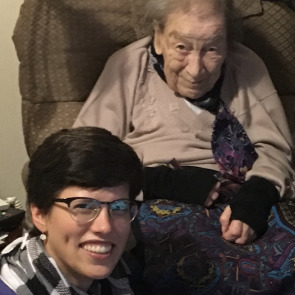 Viewed by:
1572
visitors.
Published in: Derby Telegraph.
Published from: June 18, 2020.
Home town: Derby
Helen, praying for the repose of her soul and peace for the family. Kari Gay
Left by

Kari Gay

:

01/07/2020
"Hiccoughs" By Miriam Helmers, granddaughter of Beatrice Bundy That uncommon common sense Grandma B. she Had it in abundance. How clearly she could see! I asked her once: What to do with hiccoughs? "Put up with 'em I suppose." Them, and all other mishaps. "Leave it be - God only knows." So she was with any handicap. "What will 'appen will 'appen." She taught us to be calm: Pain never caught her napping! And can't find her where she's gone - A way for us to open. Patron saint of common sense! What pains and fears we leave behind By giving common sense a chance. "Leave it be - never you mind" Are Grandma B.'s inheritance.
Left by

Miriam Helmers

:

30/06/2020
Left by
Miriam Helmers
:
30/06/2020
Left by
Ellena
:
26/06/2020
Left by
Jacob Helmers
:
26/06/2020
Sponsored by Ancestry ®
Search records for
Beatrice May BUNDY