Announcing the passing of
Roy

COLLINS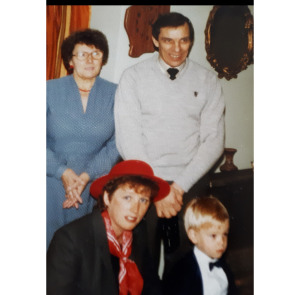 Published in: Manchester Evening News.
Published from: April 15, 2019.
Region: North West
Grandad 'Boy' that cheeky smile & quick wit! Always ready for a laugh, you were a true charmer and gentleman who will be dearly missed. Lots of love from Hayley, Sam, Kamryn, Kyra and Ada xxxxx
Left by

Hayley Leonard & Family

:

22/04/2019
Left by
Hayley Leonard & Family
:
22/04/2019
A sad goodbye to my one and only father in law. Roy What a fun time I had getting to know him. From on the buses to rolling newspapers.the stories he could tell, always the life and soul of our get togethers at the working mens clubs way back in the 70's and 80's. His grandson Sam loved to visit his grandad Roy and Nanna Irene on his many trips to England. Now Sam and Melissa have two babies of their own. Archie will carry Roy's name and fulfill a life as humorous and entertaining as Roy did. from Liz, Sam, Melissa, Madison and Archie Roy "Keep that bowtie twirling"
Left by

Liz Collins

:

21/04/2019
Our condolences to Irene, Gary, Jan, Michael, Jackie and the family. We were privileged to meet a fine gentleman and have fond memories of of your visits to Perth. Fred and Dolores Gomeze
Left by

Dolores Gomeze

:

19/04/2019
Left by
Dolores Gomeze
:
19/04/2019