Lasting Tribute page for
Trevor

HAYNES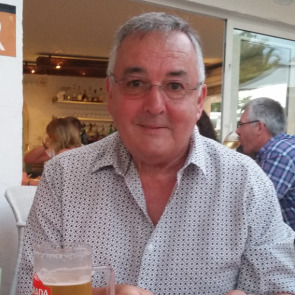 Add additional content
Memorable stories and life events
Viewed by:
1841
visitors.
Published in: Nuneaton News.
Published from: March 07, 2020.
Home town: Nuneaton
Said a little prayer for you today Trevor, I also said a prayer for Chelle, Gloria and the rest of your loving family. It was so sad that not everyone could be there in person with you on your final journey but I bet you were in a lot of hearts and thoughts today. God bless you at peace and free from pain now. Chelle's friend Angie G
Left by

Angie Gee

:

25/03/2020
Left by
Angie Gee
:
25/03/2020
To my darling husband. The time has come to say goodbye With young love our bodies shared Taking hold we knew we cared, Future plans and children made You'll always love me I was told. All these years you've been there Letting me know you really care.. Taking hold as we grow old You've always loved me I've been told. Now these nights are spent alone Reaching out I know you've gone Life for sure did pass us by Looking skyward I ask why There's a lesson to be had With the happy life we had Hold them close so close for sure Life doesn't last forever more. Trevor You were my Forever More ❤ I will love you forever till we meet again R.I.P xxxxxxxxxx
Left by

Gloria xx

:

25/03/2020
Left by
Loving wife Gloria xxxxx
:
25/03/2020
Were sorry we can't be there tomorrow to say our final goodbyes but we're so happy that one day we will meet again. Sending our love to you Gloria, Chelle, Darren, Kieran, Olivia, Mark & Louise.
Left by

Sonya

:

24/03/2020
Sponsored by Ancestry ®
Find records for
Trevor HAYNES
Your
family
story awaits you