Lasting Tribute page for
JULIE EGE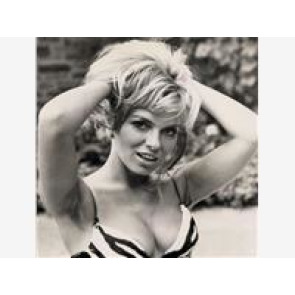 Add additional content
Memorable stories and life events
Viewed by:
1257
visitors.
Published in: Online.
Published from: May 07, 2008.
Region: National
I met Julie Ege just once in 1974, that was when I was dressed up in all the regalia of a 'Golden Vampire' complete with kimono, samauri sword, crepe hair wig and most important a golden mask. A colleague and I has been asked to think of a method of promoting the film 'Legend of the Seven Golden Vampires' and we came up with the idea of distributing small boxes of glittering 'Vampire Dust' at a number of country wide Midnigh Matinees, the boxes carried instuctions not to mix boxes otherwise all hell woud be let loose. We became part of the promotion by dressing up as Golden Vampires to distribute the boxes after each perfomance. We were also to parade up and down outside the Odeon Leicester Square for the premier of the film and escort Julie Ege and Peter Cushing, stars of the film, to their seats in the circle. I was fortunate in escorting Julie and she said,"can you see in that mask", "no" I replied because my spectacles are steaming up. "take my hand and I will guide you" she said. I will always treasure that memory.Derek Lee copyright May 2008.
Left by

Derek Lee

:

15/05/2008