Announcing the passing of
Michael John

NORTH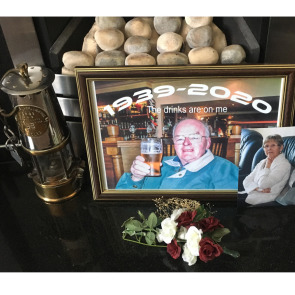 Published in: Nottingham Post, Nottingham area.
Published from: March 16, 2020.
Home town: Arnold
Yesterday we laid you too rest , one of the hardest things I've ever had to do, now you can rest with the angels pain free, I'm going to miss you so much but I know you'll always be by my side looking over me. I hope we did you proud Grandad, take care my angel I love you forever and a day your Granddaughter xxxxxxxx
Left by

Granddaughter

:

28/03/2020
Left by
Free at last dad, Love Ali xxx
:
26/03/2020
We would just like to say a massive thank you to all family members and friends for their condolences and support X we totally understand if anyone doesn't want to attend dad's funeral under the present circumstances X we immediate family will lay dad to rest on Friday but obviously we can't have the wake x you can be sure that as soon as things get better we will have the best partayyy send off ever for our loved brave old soldier X X X X all our love Helen Martyn and Alison X X X
Left by

Helen Denton

:

24/03/2020
To our Mike, love you always ,so sadly missed. A golden heart stopped beating Hard working hands at rest God broke our hearts to prove to us He only takes the best. Loving sister and brother ,Maur and Mart. Gren and all our family.
Left by

Grenville

:

22/03/2020
Left by
Grenville
:
22/03/2020
Sponsored by Ancestry ®
Find records for
Michael John NORTH
Your
family
story awaits you