Lasting Tribute page for
PAUL BEARD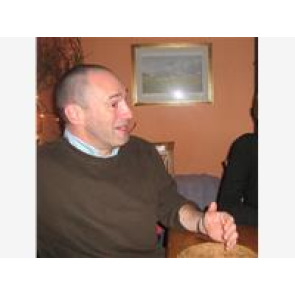 Add additional content
Memorable stories and life events
Viewed by:
4253
visitors.
Published in: Online.
Published from: January 16, 2009.
Home town: National
Just learned today that my old friend, drinking partner, laughter buddy has left us all far too soon. I see that it's been 10 years, but my heart goes out to his family and friends nevertheless. Paul and I started work at Price Waterhouse in 1989 as part of their graduate recruitment intake. Paul never ceased to tease me about my lack of computing/engineering background but would always be there to help if I had questions. He was indeed, almost unbelievably good at everything and I'm so proud to have known him for a short while. I'm uploading a photo I had from the Price Waterhouse (PW) employee magazine at the time - if my memory is right it shows Paul in the Softball team that went on tour in the States in 1991 (middle row far right). Of course Paul had never played softball before. Of course he was great at it.
Left by

Helen (Bewley) Bally

:

30/11/2018
2 years or thereabouts. We moved on 7th November. After a year of thinking the builders started and they are not quite finished!!! We were iced in from 17th Dec 2008 to 17th Jan 2009. We were much fitter as the cars were on thelane so all we had to do was to walk down the track. In April we had to move on to the narrowboat as the builders wanted to take all the floors up - I still miss the boat- she is moored in Sowerby Bridge permanently now. Have you thought of spending a few days up here in the Summer we would love to see you all. We have exbattery chicks (one died) in Feb and Gorgie is still plugging on. Its a funny life - I was looking for Helen from St Peters who makes curtains I am making some seriously warm curtains for our daughter Alison's vicarage ( well for Olly her husband but she lives there too. - A metal framed Art Deco house with Critall windows - itsbeautifulbut seriously cold. Anyway - enough - email me at vjmad@gmail.com or phone on 01422 (yes it really is that)881543 The photo was taken last Jan - they have built the garage and workshop and are spreading sandstone on the paths. With much love and many blessings Victoria Macdonald (we havent forgotten and pray often)
Left by

Victoria Macdonald

:

23/11/2010
We all as a family have very fond memories of Paul. His tremendous presence, his wicked sense of humour, his determination to have fun and his loyalty to friends. Our hearts go out to Carolyn,Ben, Molly and Sophie, and all his family.With all our love,Phil,Kate,David, Imogen,George and Polly Almond
Left by

Kate Almond

:

08/02/2009
I have just heard the sad news of Paul's untimely death, a huge shock, and to happen to such a wonderful person.My son (Christopher Webb) played for the Raiders team as goalkeeper before we moved down to Dorset.Paul's love for the game was infectious and his values and standards second to none. He praised and encouraged the team, win or lose and his efforts will be sorely missed. He was always fair and impartial, difficult when your son is in the team but I always told Christopher to get the ball onto Ben's left foot to guarantee a goal.Our thoughts are with you.John, Tina & Cristopher Webb.
Left by

John Webb

:

05/02/2009
At college, Paul was one of those colossal people who appeared annoyingly good at everything, especially sport - and whilst that wasn't so uncommon in such an environment - unlike others, Paul was happy to rub along with those of us with fewer talents. If you were feeling a bit out on a limb in the bar, chances are before too long Beardie would sidle up, say "fancy a beer?" and have you in the middle of things, taking banter and abuse with the best of them....Fast Forward 20 years and there he is again in Berko, less hair, a bit mellowed (on the surface at least), still giving the butcher's dog a good run for its money, now a family man devoted to Carolyn, Ben, Molly and Sophie, but still at the centre of things, a colossus in our community, and Chairman Beardie at the Raiders bar. Those inclusive characteristics have developed further with age, and he's been instrumental in re-creating a sports club where involvement, decency and fairness come first - directly followed, for his teams at least, by winning. Not far under the surface the mischief still lies ready..."Fancy a beer?" "OK Paul, just one more then....."
Left by

Stephen Spall

:

31/01/2009