Lasting Tribute page for
Alan

BALL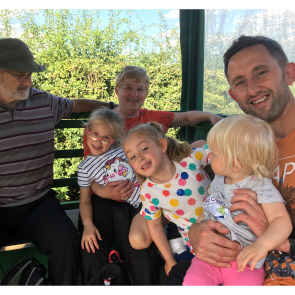 Add additional content
Memorable stories and life events
Viewed by:
3604
visitors.
Published in: Burton Mail.
Published from: January 07, 2020.
Home town: Swadlincote
Notable areas: Newhall, Castle Gresley, Church Gresley, Burton upon Trent
Left by
Pete Harding
:
12/01/2020
I have no words to explain the whole that is left in my life or my heart. I am truly thankful, blessed and honoured to be able to call you Dad. You've always put the family and others before yourself which makes me extremely proud. Millie misses her gan gan infinity she says but she waves to you in heaven. I love you with all of my heart and will do everything I can to keep your memory a love for the girls and to make you proud. Rest easy now Dad up there and don't worry about Mam we'll look after her. Life will not be the same without you xxxxxxxx
Left by

Miriam Moore

:

07/01/2020
So sad to hear. Top bloke, had some great laughs with Al & Bob playing football for Castle & especially in the pub after the games on a Sunday. My thoughts are with the family. RIP Al.
Left by

John Ratcliffe

:

07/01/2020
Rest in peace alan ball Will never for get gresley rovers youth newhall utd days with you Always had time for a chat Fozzy
Left by

Richard

:

07/01/2020
Left by
Richard
:
07/01/2020
Sponsored by Ancestry ®
Find records for
Alan BALL
Your
family
story awaits you