The end of the year is almost upon us and what a year it's been! Everyone here at the funeral notices team is definitely ready for a break at Christmas and we hope you get the chance for some time out too.

Christmas falls on a Friday this year so for our daily publications this means no changes to deadlines up to and including Christmas Eve. We are not publishing any papers on Christmas Day as usual. The deadline for notices to be published on Boxing Day, Sunday 27th December (if your local paper is published on a Sunday), Monday 28th December and Tuesday 29th December is 12:30pm on Thursday 24th December.

Deadlines for daily papers are then as normal up to New Years Eve. The deadline for notices to be published on New Years Day, Saturday 2nd January 2021, Sunday 3rd January and Monday 4th January is 12:30pm on Thursday 31st December 2020. Deadlines will then return to normal (with the exception of the Paisley Daily Express where the deadline for the 5th and 6th January is 17:00 on Wednesday 30th December).

The complete deadline list for daily titles may be viewed and downloaded here:
Christmas Deadlines - Daily Publications
Our weekly publications remain unaffected by any deadline changes until Monday 21st December. Deadlines return back to normal for every weekly publication from Thursday 7th January.

The complete deadline list for weekly titles may be viewed and downloaded here:
Christmas Deadlines - Weekly Publications
Like you, Christmas is one of our busiest times so we remain open to support you as much as we can whilst also trying to give everyone some much needed time off. We remain open as normal every day apart from Christmas Eve and New Years Eve when we close at 1pm.

We will be closed Christmas Day, Bank Holiday Monday 28th December and New Years Day.
If you would like to book a notice whilst we are not open or need a notice online instantly, you can select 'upload immediately' on the date selection page of your booking. Your notice will be on funeral-notices.co.uk within 15 minutes ready for the family to share, add their loving tributes and make donations. If you wish a notice to appear online immediately and in the paper, the date selection will default to the next available publishing day for the print version and our dedicated team of scrutineers will make sure it is correct in time for the print deadline.
If you would like any further support in booking your own notices you can read or download our helpful guide here:
Self serve guide.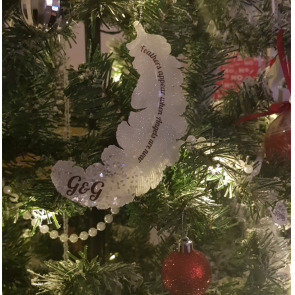 We know the pandemic has changed your traditional Christmas Memorial plans. If you are doing something different this year, we would love to hear about it. We are putting together a blog highlighting the different and imaginative ways Funeral Directors are helping families to remember their loved ones this Christmas.
If you would like us to feature your Christmas memorial plans, please email fdteam@funeral-notices.co.uk and look out for the blog on our social media.
As 2020 comes to a close, we would like to take this opportunity to thank you for every single notice you trusted us to place this year in your local newspapers and online at funeral-notices.co.uk - we value you and look forward to continuing to work together in 2021.

Christmas will be different for many of us this year; we hope you manage to take a break. We wish you and your families all the very best for Christmas and the New Year.