Greater Manchester
- Greater Manchester
Today's Notices
Most Read This Month
Popular Notices
Select a
region
on
the map to view
notices in your
chosen area
Popular Notices
Register Today
to get these great online benefits
Add tributes of condolence, light candles or add a picture/video to any notice.
Set up custom email alerts to notify you with an email of new death notices that matter to you.
As a member you can save any death notice that is important to you.
Lasting tribute page for the UK victims of coronavirus
Share your own tributes, memories and photos
Donate to the NHS Together Charity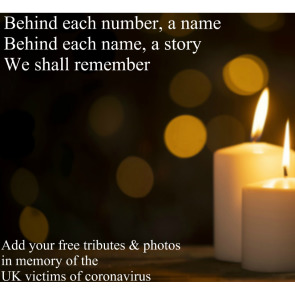 Visit here:
Victims Of Coronavirus Tribute Page
Join thousands of others in leaving a free tribute for the UK victims of Coronavirus.
We have created a page that we will update every day, as new information is released, on the number of UK coronavirus deaths.
The lasting tribute page has been created in memory of the victims of this virus; the people behind the statistics.
To support the NHS staff and volunteers caring for Covid-19 patients, please consider making a donation on the tribute page in memory of the victims of coronavirus to the NHS Charities Together appeal.
Behind each number, a name
Behind each name, a story
We shall remember
We invite you to share your stories, messages of support or light a candle
Here
Would you like to create a
notice for a loved one?
Our Philosophy
Announcing the death of a family member has been a time-honoured tradition for families and loved ones, a tradition we believe should continue as life should be celebrated and never forgotten.
There have been many different ways to announce a death, with regional newspapers being the main choice for a long time. Depending on where you live in the UK, you may know them as a
......
BMD, Family Announcement, Obituary or Intimation.
Read in full
funeral-notices.co.uk carries more obituary notices than any other media company in the UK, with over 4.8 million historic notices. We are proud to receive more than 1 million visitors each month who interact and leave over 12,500 photos, tributes and candles on our notices.
That's why people turn to funeral-notices.co.uk, making us their first choice.
Providing an excellent service, we have a passionate team, who combined, possess over 300 years of experience in this industry. We put our customers at the forefront of our business and we have made it our aim at funeral-notices.co.uk to provide one place for each and every announcement in the UK. Our site will enable you to search and interact with a decade of notices across the UK, set up custom alerts and get notified about local deaths in your area.
We believe that your announcements should live on with your loved ones memory and that it's important to have a place to reflect and remember long after their passing. Family and friends will be able to enrich the notice with memorable photos and tributes, light candles and share on social media, all completely free of charge. Our aim is to provide a place for the memories of your loved ones to live on forever, a place you can cherish, find comfort in and visit whenever and wherever you wish.