We have explored many different types of funeral in the past, from humanist services to green burials, and found that most final wishes can be accommodated in the UK (outside of covid restrictions). But what about burial at sea?

When I think of being buried at sea I think of war times, hardened Trawlermen and historical Naval figures; lives lived, fought and died at sea. Many Funeral Directors offer burial at sea as an option in 2021, so my perceptions of burial at sea are definitely out of date, so what does a burial at sea look like nowadays and is it something anyone can choose?

Burial at sea is available to everyone as an option upon their death. According to Gov.uk, to be buried at sea you must first apply for a license.

There are also some conditions for the body of the deceased too. You must make sure the body of the deceased:
is lightly dressed in biodegradable material
has a durable identification tag with the details of the funeral director
According to a recent article on
mirror.co.uk,
there are also rules that apply to the coffin used for a burial at sea:
'The coffin must be made of a solid softwood and must not contain any plastic, lead, copper or zinc. Needless to say, anything other than wood risks harming marine wildlife.'
The coffin must also have holes in and a heavy base to ensure it sinks to the ocean floor. The weight needs to be evenly distributed too so the coffin remains the right way up.
The body and coffin may be inspected by the relevant authority before the burial takes place.
Burial at sea is usually accompanied by a small service on a boat with your own personal choice of celebrant (if any). There are many commercial boats that can accommodate burial at sea and some companies set up specifically for that purpose. Most Funeral Directors can help arrange this for you.
There are a couple of ways to apply for a license to be buried at sea. The simplest way, if you aren't bothered which area of the sea you would like to be laid to rest, is self-service licensing. In order to be considered for this you would need to be buried off The Needles, Isle of Wight, between Hastings and Newhaven or off Tynemouth, North Tyneside.

To gain permission to be buried at sea at any other offshore location in England and Northern Ireland, you need to apply for a more in-depth license and you may be asked to document things like water depth, currents, pipelines and fishing in the area. For burials at sea in Wales or Scotland, you need to contact the relevant body in order to gain a license.
Many people on the British Isles have an affinity with the sea and so it is easy to understand why they would want to be buried beneath the waves. Around a dozen people a year choose to be buried at sea off the British Isles and it is thought most of them are ex-navy or trawlermen; people with a history of working at sea. With more and more people choosing to make their last wishes individual and unique though, we could see a rise in people opting to be buried at sea.

If you do not wish to be buried at sea but would like your favourite part of the sea around the UK to feature in your last wishes, it might be an idea to request some or all of your ashes be scattered at sea instead. Cremated remains may be scattered at sea freely making it a more popular choice for many people who would like the sea to play a part in their final resting place.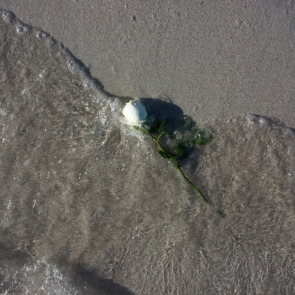 If burial at sea is something you are interested in, it is worth talking to your Funeral Director first and making sure it is something they are happy to arrange for you. If they are, they will take care of all of the paperwork and legal requirements.
For more information on other funeral options, read our previous blog 'What different types of funerals are there?'
here.
Thank you for reading.