Each month we like to take a look at the many incredible collections that are being raised here on funeral-notices.co.uk, and pick one charity out to spotlight the brilliant work they are doing, all aided through your donations. This month we wanted to take a look at the notice for
Graeme Convery
of Seahouses, and the collection of over £1,400 for
The Bradley Lowery Foundation
.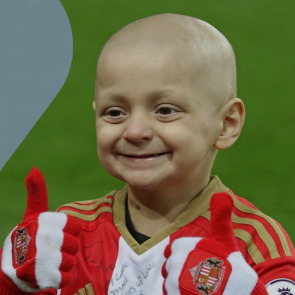 In 2013, Bradley Lowery's mum, Gemma, started a fundraising campaign to raise enough money to get Bradley the specialist treatment he needed. Bradley suffered from a rare and aggressive form of childhood cancer called Stage 4 High Risk Neuroblastoma, and the treatment he needed was not available over here in the UK.

The campaign was very successful (in part due to Bradley striking up a heartwarming friendship with his footballing hero, Jermain Defoe) and raised over £1.3 million, but unfortunately Bradley still lost his fight aged six. After this devastating loss, Gemma found her purpose by establishing The Bradley Lowery Foundation, a charity started in her son's name that aims to support families just like theirs who are fundraising for treatment or equipment that is not readily available through the NHS.

The foundation also supports research into neuroblastoma and other childhood cancers, and also plans to support a holiday home called Super Brad's Pad that will allow families precious time to create memories together outside of the hospital.
The easiest way to help is to head over to
The Bradley Lowery Foundation
website and click on 'Donate Now'. Another way is to request of your family that, on the event of your passing, donations in memory are left for The Bradley Lowery Foundation; that's what
Marian Morgan
of Springwell Village did, and friends and family helped raise over £700 in her memory.
Have you got a charity you would like us to spotlight in a future blog? Please let us know in the comments below.
Thank you.